Customized Tooling
We have high level competence in precision engineered customized tooling, and our supply partner Mapal is the global leader in this area. We can offer tools with guide pads, multi-bladed adjustable reamers, multi-step fine boring tools & reamers, multi-diameter / multi-flute tools to achieve high productivity rates. All tools can be supplied in solid carbide, PCD or CBN.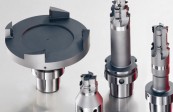 Mapal are today one of the leading designers & manufacturers of PCD tools and have built up a comprehensive know how in this field
MAPAL has created a comprehensive range of tools for the reliable machining of modern materials such as Fibre-reinforced plastics, titanium, nickel-based alloys, CFRP-metal multilayer composites, aramide, honeycomb, plastics.
Our technology of tools with guide pads is unrivalled in relation to the fine machining of bores in any work-piece material.
With MAPAL high performance reamers drastically reduced machining times are possible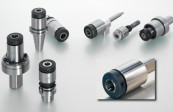 From Expanding Chucks to Thermal Expanding Chucks, from Polygon Chucks and Mechanical Chucks for Cylindrical Shanks to Adaptors and Flanges to MAPAL's innovations like KS Clamping Cartridges and HFS Systems, MAPAL has a holding solution for you.
Using years of experience creating innovative tooling solutions for some of the world's most challenging applications, MAPAL has made unique performance-enhancing advancements in Its SPECIAL ISO Tool offering.